Uphill Travel Inbounds at Sugar Bowl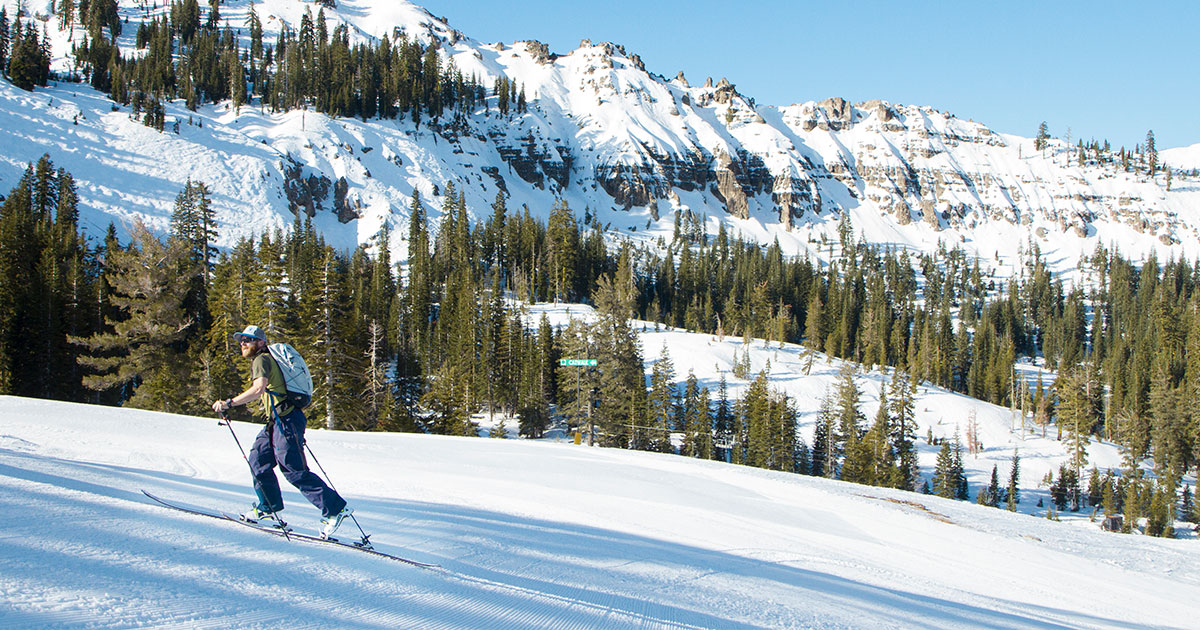 So you want to take the hard way up, huh? You've come to the right place! Here at Sugar Bowl, we're excited to offer uphill travel on three designated routes. Most of our uphillers are here for one of two reasons, either to access the backcountry or to get a great workout. Whatever your reason for skipping the lift, we're excited to host splitboarders and ski tourers at Sugar Bowl.
That said, the uphill scene at Sugar Bowl is no free-for-all. Follow the uphill guidelines to make sure that you have a safe uphill experience and the community can keep enjoying these privileges.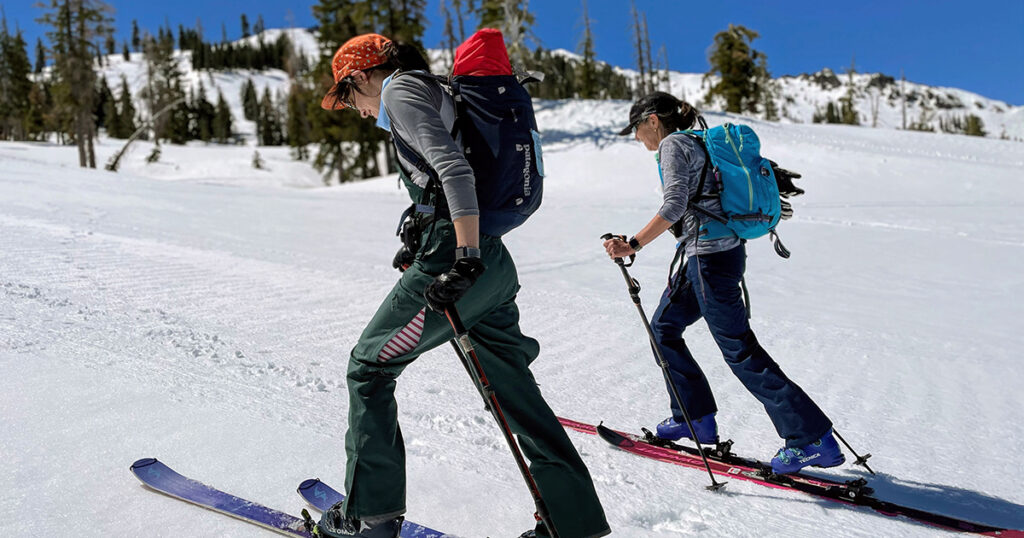 Why Uphill?
Early morning workout
If you're here to work out before the work day, plan to arrive at Sugar Bowl with skins on between 6-7am. We're giddy just thinking about the combination of crisp corduroy, the sunrise, and a thermos of coffee at the top. If you're up for a challenge, it's possible to skin from the Judah Parking Lot to the summit of Lincoln and ski/ride back in 50 minutes. You've still got a whole hour to get to the office if you're a 9-5er.
Sunset Jaunt
If you're more of an end-of-the-day adventurer, our uphill hours stretch through the entire day all the way to 7pm. When the sunset is hovering around 5pm in the shortest days of winter, you're primed for an epic Sierra sunset (but you'll want to have a headlamp in your pocket.) The afternoon uphill experience pairs well with a visit to the Belt Room afterwards.
Backcountry Access
Sugar Bowl has an open boundary policy. Please be mindful of the backcountry access gates and do not exit through the gates if they are marked as closed. If you plan on traveling in the backcountry, you'll want to equip yourself with a beacon, shovel, probe, and a base level of understanding of how to travel avalanche terrain. A 3-day AIARE 1 avalanche course is a great place to start.
Want to learn to Uphill?
There are a variety of local guide services in North Lake Tahoe that teach uphill and backcountry skills. Sugar Bowl partners with Alpine Skills International, who offers a handy one-day Intro to Backcountry course.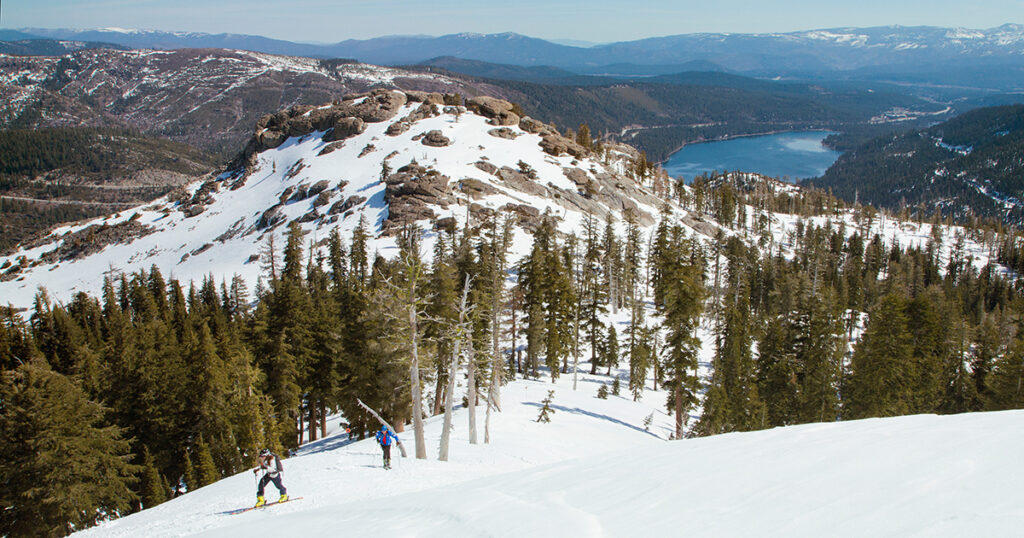 The Basic Rules of Uphill:
A lift ticket or season pass is required to travel uphill inbounds.
Review and sign the Uphill Use Policy before traveling uphill.
Travel is allowed between 6am-7pm, but always check the website to make sure uphill travel is open. (Rule of thumb, if it's really storming, we'll probably close uphill travel… always check!)
Use designated uphill travel routes only, stick to the edges of the trail and cross the slope only where directed. See descriptions below.
Expect to encounter on-snow vehicles like snowmobiles and snowcats, etc. Plan to yield… Are you really in that much of a hurry?
Sorry, no dogs permitted. But you can try cross country skiing in Van Norden Meadow with your favorite furball.
A Note about Safety from Patrol:
Be aware of oncoming traffic. We close uphill when visibility becomes a safety issue, basically during weather events. Always check the Sugar Bowl website to see what the current status of uphill is. And lastly, follow the designated uphill routes."

Courtney Meyerhotlz. Sugar Bowl Ski Patrol Director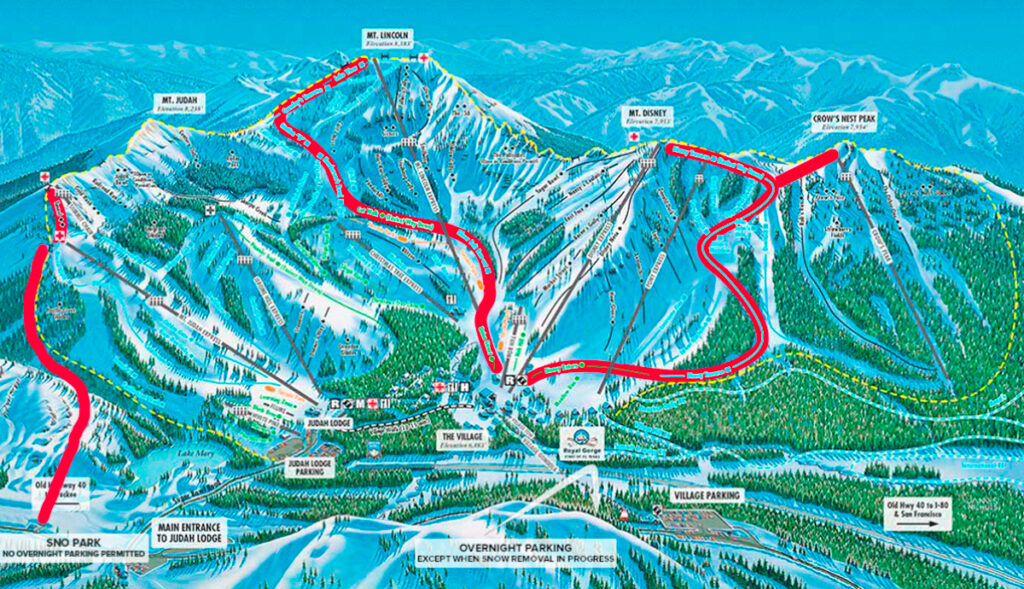 Route Descriptions
Mt. Disney 7,943′
~1,000 vertical feet of climbing from the Judah Parking Lot
Ascent & Descent Routes (listed from bottom, up): Disney Return, to Disney Traverse, to Disney Meadow, to Disney Traverse (the easiest way down).
Mt. Lincoln 8,369′
~1,400′ vertical feet of climbing from the Judah Parking Lot
Ascent & Descent Routes (listed from bottom, up): Union Street, to Silver Belt Run Out, to Cat Walk (Do not ascent straight up Silver Belt Run Out, stay to the left and utilize Cat Walk to avoid downhill traffic), to Henderson's Bowl, to California Street, to Crowley's Traverse (the easiest way down).
Mt. Judah 8,245′
~1,300 vertical feet of climbing from the Judah Parking Lot
Lower: Ascent & Descent Routes (listed from bottom, up): Season passholders may ascend starting at Lower Coldstream, to Tunnel 41, to Buena Vista. (Non-ticketed, non-passholder guests will end from the SnoPark parking at the top of Donner Summit. Enter the resort boundary by crossing Pacific Crest Trail and up Tunnel 41, to Buena Vista).
Upper: Ascent & Descent Routes (listed from bottom, up): Buena Vista to Tunnel.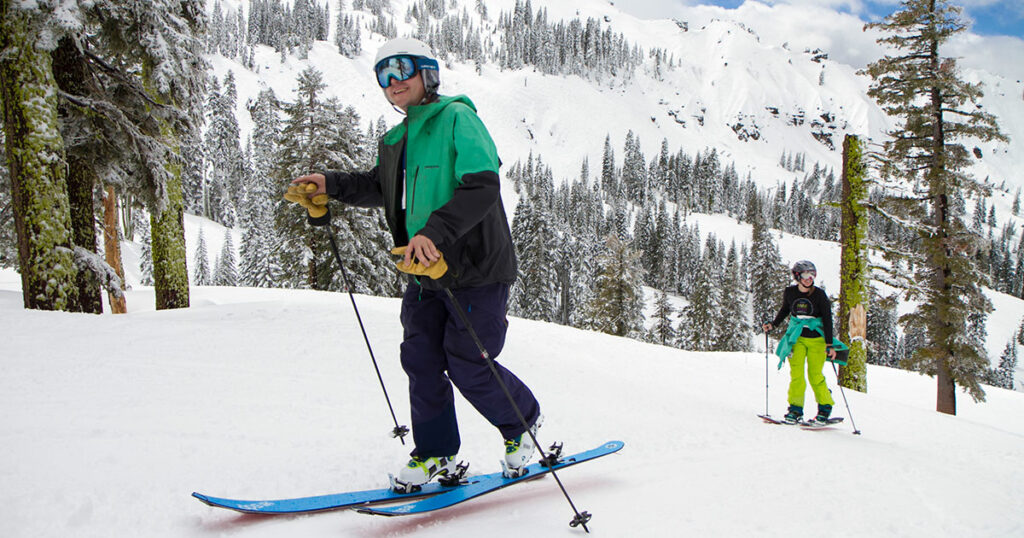 More Details to keep in mind
Uphill travel is not permitted inbounds outside of the normal operating season (don't try to sneak in during early November, we'll ask you to turn around!)
If you've gotten this far you should know better but… uphill gear is required. Don't try to walk uphill, no snowshoes, and you must have skis or a split board with metal edges to ascend. If you are looking for snowshoeing, check out Royal Gorge.
Parking: you'll most likely want to park in the Judah Lot if you are accessing the Lincoln or Disney uphill tracks.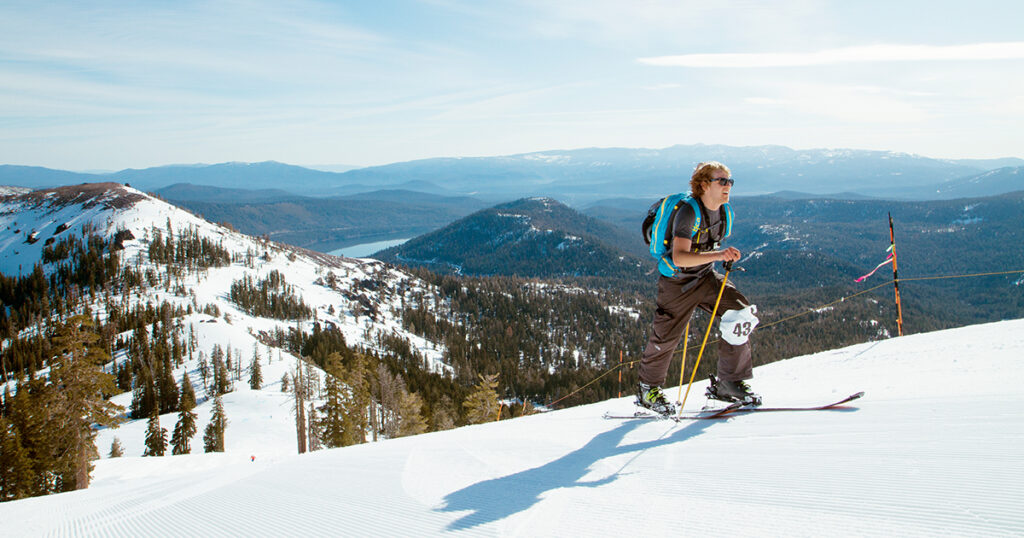 Remember, be an uphill travel steward. Offering this program to our Sugar Bowl community requires the cooperation (and the goodwill) of many departments including patrol, grooming, lift maintenance, snow removal, parking and more. Ignoring the rules is dangerous and will make it impossible for us to continue to offer uphill travel. Whatever you do out there, don't be the clown to jeopardize uphill travel for the entire community!
Visit our uphill status page for details. For daily uphill status call (530) 426-6775.