10 Kid-Friendly Sugar Bowl Tips You Need to Know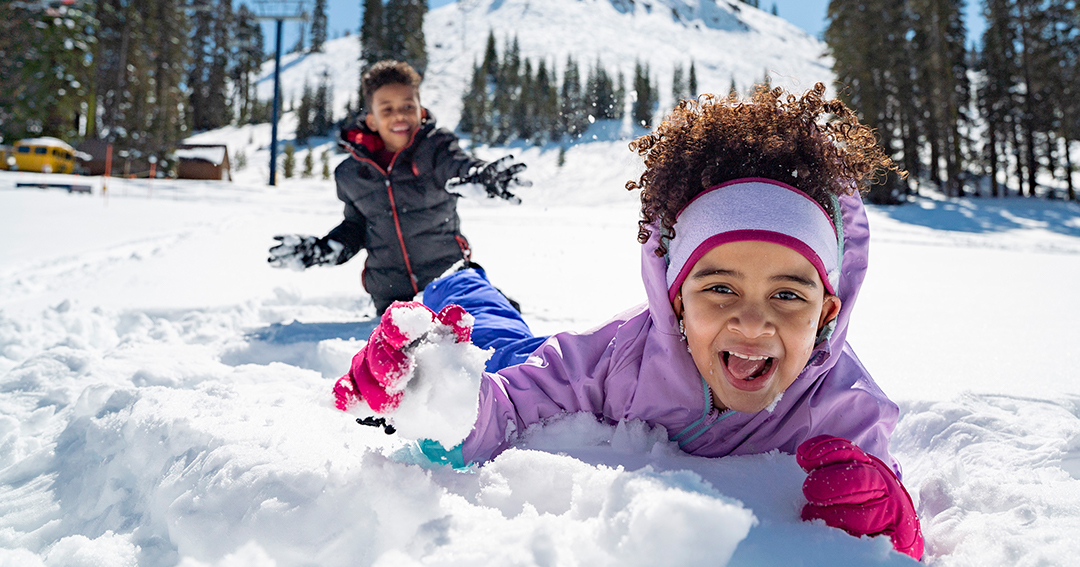 Picture this: the classic family ski vacation with snow angels and hot chocolate, where faces are buried behind goggles and neck warmers instead of smartphones and tablets. Well, to be honest, a ski getaway with kids isn't the easiest vacation to plan, but we think it's worth it. Here's your kid-friendly guide to Sugar Bowl, a complete list of tips and tricks to make your family time on the snow memorable.
1. Score a $10 lift ticket for kids 5 and under.
Did you say $10? Yep, at Sugar Bowl, kids 5 and under ski for just $10. Kids 6-12 ski for as low as $59. With ticket prices so affordable, it's going to be a breakthrough year for your kid's skiing or riding… without breaking the bank!
2. Nail the timing: door-to-door from San Francisco to Sugar Bowl in just over 3 hours.
We all want less "are we there yet??" If you are traveling with kids to Sugar Bowl on a midwinter weekend, consider driving on i80 during non-peak times– the night before, or extra early the morning of. A little creative scheduling pays off big time.
If you are traveling west on i80, Sugar Bowl is 20 minutes closer, at minimum, than other large resorts in Tahoe.
Since you won't spend time backed up in traffic on highway 267 or 89, you can wrap up a day of skiing at Sugar Bowl and be home for dinner.
3. Choose the best time of year to ski with kids
The best time to visit is probably going to be when kids aren't in school. But hey, we promise not to judge if you're letting your kids play hooky to go skiing! To avoid busier periods and ski with kids in a more relaxed environment, choose midweek/non-holidays whenever possible.
Any month of the winter season can be a great time to ski with kids. Want a preview of the typical conditions we get throughout the season?
4. Get the Kids Outfitted
Warm kids = happy kids, let's break down all the essentials to keep little fingers and toes warm.
If you forgot something, the Village Lodge and Judah Lodge are both equipped with retail shops. You'll be able to replace that mitten that got left in the driveway, no problem. If a binding malfunctions or your kid's foot mysteriously increases in size— it's that fast, right?— you can head to the rental shop in Judah Lodge for a spare pair of boots, board, skis, or poles.
Want a link to a handy packing checklist?
Water / wind resistant jacket & pants
Long underwear
Fleece midlayer top
5. Know where to park with kids in the car
If you want to get from car to slope with kids as fast as possible, Mt Judah Lodge is the easiest and most convenient place to park. There are three large slopeside parking lots with free parking. Pro tip: If carrying skis across the parking lot doesn't sound like your idea of a good time, use the 10-minute drop-off zone next to the Judah Lodge for easy unloading. If you've signed up for ski or ride lessons, you can use the free, upfront ski school parking near the big white tent at Judah. Here's a handy link.
Alternatively, show your kids the scenic route and take the Village Gondola ride across the Van Norden Meadow and the train tracks. You'll arrive at the Village Lodge after a 10-minute ride and you can access the resort from there. Just remember, if you need to access the car again, it's another round trip on the Gondola.
6. Choose the best terrain to ski with kids
Take it easy: If you parked at Judah, the easiest kid-friendly zone is White Pine. You'll find short lifts, a moving carpet, and mellow terrain great for the kids to warm up on.
Send it! If the kids are ready for more adventure, bring them to our new "flow park" off the Judah lift. The flow park is a new kind of terrain park that is full of creative snow features and is accessible to a wide range of skiers and riders.
Let's go explore: When the kids are ready to continue exploring the whole mountain, head to the top of the Disney lift and look for the the Disney Traverse. Skiing or riding through the giant snow rollers is always a winner.
7. Skiing with kids is great but… when you need an hour to yourself
We hear you! Lapping the bunny hill all day can be a task when the bigger mountain is calling your name. A half-day group lesson or even a one-hour private lesson can provide just enough time to get your fill. Our certified ski & board instructorslk are professionals at making sure your kids have fun on the slopes. We offer four different levels of lessons to make sure that your kid is matched up with a group appropriate for their skill level. In a kid-specific lesson, your kid will learn new ski/board skills, meet new friends, and give YOU some time to ski and relax on your own.
8. Show the kids a little Disney Magic
We may be hundreds of miles from the closest theme park, but did you know Sugar Bowl comes with it's own Disney History? Showing your kids these three Disney connections is a surefire way to get them excited to explore the entire resort. Walt Disney was an early investor in Sugar Bowl and his legacy lives throughout the resort, especially Goofy.
Find our new Goofy statue near the Disney lift for the best skiing selfie ever.
Watch the 1941 cartoon "The Art of Skiing," where Goofy goes to Sugar Bowl to learn how to ski. Look for the Village Lodge featured in the cartoon at 2:39.
Grab a copy of our trail map and scour the trail names for Disney-related characters.
9. Keep h-anger at bay: because even the best powder day of the year won't make a hungry kid excited to go skiing.
If there's one thing we've learned, it's that hungry kids have less fun on the slopes. Plan for success and schedule some midday R&R into your ski day. Here's our top 3 kid favorites:
Mac & Cheese Bar at Mid Mountain Lodge
Sweet sticky BBQ ribs outside on the sundeck Mt Judah Lodge
Warm homemade Cinnamon Buns on the sundeck at Village Lodge
On a budget? Make sure there's a Clif Bar in everyone's pocket for chairlift snack breaks. Brown bag it at the Ratskeller for lunch.
10. Find the Goldilocks of ski destinations: not too big, not too small
Sugar Bowl is the perfect destination for your family ski vacation. You'll enjoy the small resort feel, while having access to a big variety of terrain. You'll find plenty of accessible kid-friendly terrain across the resort, but there are plenty of steeps & chutes just a chairlift ride away. Join us for a trip to the mountains that the whole family will enjoy.