5 Exercises for Skiing & Riding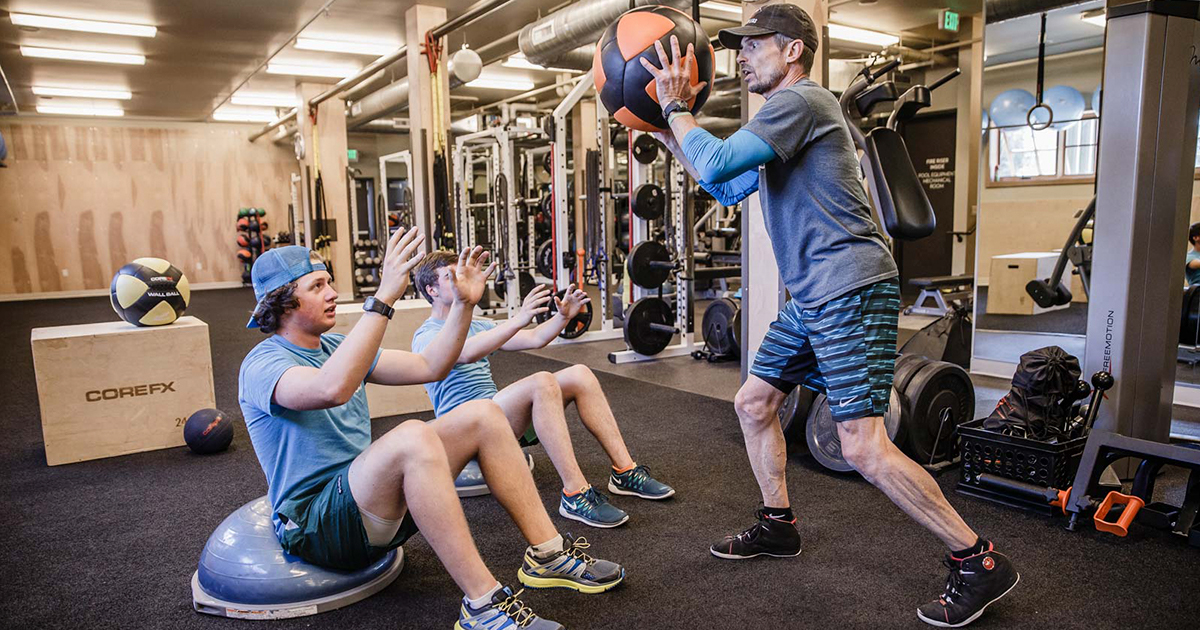 Want to know how the pros are getting ready for ski season? Check out this 5-part preseason exercise series with Jamey Conley, Director of Performance at Sugar Bowl Academy. Jamey shows us five ways to prepare the key muscles, or "primary movers" that you'll use skiing and riding this season– think knees, thighs, glutes and core. This series of exercises are simple to do at home and they don't require any specialized equipment.
A couple benefits to preseason training include:
Building overall strength and endurance
Preventing injury
Being a little less exhausted on the first powder day of the season
A little background on Jamey…
Jamey has a BS in Athletic Training from Springfield College, where he played on the Men's Lacrosse Team. He is a Certified Athletic Trainer and Certified Strength & Conditioning Specialist with experience working in collegiate and professional sports settings, as well as in the private setting working with middle school, high school, collegiate, and professional athletes. Prior to joining SBSTA, Jamey was a Performance Coach for Altis Performance and for U.S. Ski & Snowboard High Performance.
Exercise 1: The Classic Squat
Start in a standing position with your feet shoulder-width apart (Slightly wider is okay, but avoid trending too wide)
Get tall through the top of your head and keep your back straight
As you descend, your goal should be to descend straight downward
Keep your feet flat on the ground- you should feel weight in your heels all the way to your big toe.
Make sure your knees are tracking straight over shins
Exercise 2: Lateral Lunge
Similar to the squat, remember to stay tall in your upper body with a straight back
From standing, keep one foot anchored while stepping the other foot out to the side.
Try to hit a 90 degree angle between your hip and your knee
Drive from the inside edge of the foot
Lateral Lunges are an important movement especially for skiing. When you are making a big arcing turn with speed, you're using the same lateral movement as this lunge. Lateral lunges also help us train the muscles that absorb impacts on the hill. Stability prevents injury.
Exercise 3: Single Leg Squat
Stand facing away from a stable surface (like a coffee table, chair, or bench)
Shift your weight onto the foot of the leg you're going to be squatting towards. Slide the other foot forward and lift it off the floor.
Keeping your upper body tall, squat straight down to tap the bench and be sure to keep your knee tracking straight over your toes.
This is a great exercise for building stability in the knee joint and preventing injury.
Exercise 4: Dead Bug
Lay with a flat back on the floor and bring your arms and legs up to 90 degrees (like an upside down table.)
Take turns extending an opposite arm and leg outwards.
Keep your back flat to the floor and remember to take deep breaths.
Building a strong core is essential for being able to control our turns.
Exercise 5: Squat Jumps
Get tall and set up like you would for a squat.
Get low and bring your arms down towards your sides (your arms will go where ever your hips go.)
Explode up to the ceiling and bring your arms up overhead.
When absorbing the landing, don't stop stiffly or drop all the way to the floor, try to stop somewhere right in the middle.
Jumping exercises help build explosive strength in our legs.