How To Make the Most of a Short Ski Trip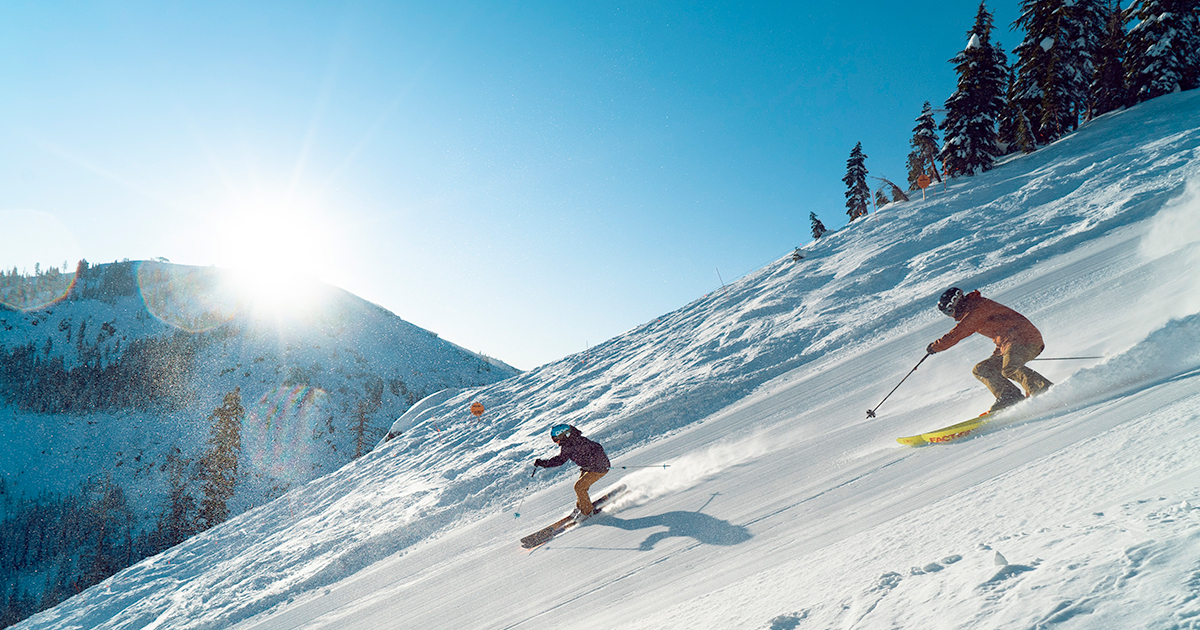 Your Guide to 48 Fabulous Hours at Sugar Bowl
Use these tips to maximize fun, even if your time in the mountains is at a minimum. With a little research and some proper planning, you can get a lot done in a weekend. Between the easy highway access, uncrowded slopes, and authentic alpine vibe, Sugar Bowl Resort is the perfect spot for a quick ski getaway in Tahoe.
Drive at Non-Peak Times:
If you want to travel as efficiently as possible, plan your drive time well outside of peak traffic hours 3pm-6pm. If you are traveling east on i80 and aiming for a Friday evening arrival, consider leaving extra early midday or pushing the trip into the late evening. If Saturday morning is your target, break out the extra big coffee thermos for an alpine start and try to hit the road before dawn. Sugar Bowl is generally WAY less crowded than other large resorts in Tahoe BUT that doesn't mean the highway won't be busy if you're traveling on a weekend. If you must travel at peak times on the weekend, don't worry, Sugar Bowl is only 3 miles off the highway and you won't be contending with the bulk of the traffic that is closer to Lake Tahoe.
Winter driving tips: plan around the weather and prep your vehicle. Have chains on board (and make sure you know how to install them) or choose a vehicle with snow tires and 4-wheel drive if possible.
Friday Night Arrival:
Where to stay: There are 2 convenient options for staying close to Sugar Bowl. If you want to be as close as possible to skiing, choose to stay slopeside at The Hotel or in a nearby vacation rental. If you prefer to stay in Truckee to be closer to the nightlife, no big deal, just hop on i80 going west and you can typically make it from Truckee to Sugar Bowl in under 25 minutes.
9am: Saturday Ski Day:
Now that you've unpacked your gear and gotten your bearings, let the fun begin!
Where to ski:
First let's start with a trail map.
Looking for easy green runs? Try White Pine near the Judah Lodge and work your way up to the Jerome Hill lift.
Comfortable on moderate blues & blacks? Chute One off of Lincoln is a classic. You'll get to experience the tallest summit at Sugar Bowl and there's a moderate way back down to the base.
All about challenging black runs? Tick off the East Face of Disney or the 58 off of Lincoln.
Two important tips:
If you need a lift ticket, remember to purchase it at least a day in advance. Keep in mind that we sell a limited amount of lift tickets every day, so plan ahead if you want guaranteed availability.
Early birds get… good skiing: We groom our runs overnight, so showing up at or before 9am is usually the best way to catch good snow conditions.
11am: Coffee Break at Village Lodge
After a couple solid hours of skiing and riding, treat yourself to an artisan coffee and pastry at Village Espresso in the Village Lodge. You'll be surprised to find an exceptional third-wave coffee shop nestled right into the heart of our historic Village Lodge. Temple Coffee Roasters out of Sacramento adds some serious panache to the standard ski resort coffee offering… but hey, if you want to keep it simple with a cup of drip, don't worry, we've got that too.
We always find that a little caffeine perks up our tired legs for a few more hours of skiing or riding. After a good midday break, you'll be ready to finish out day 1 on the slopes strong.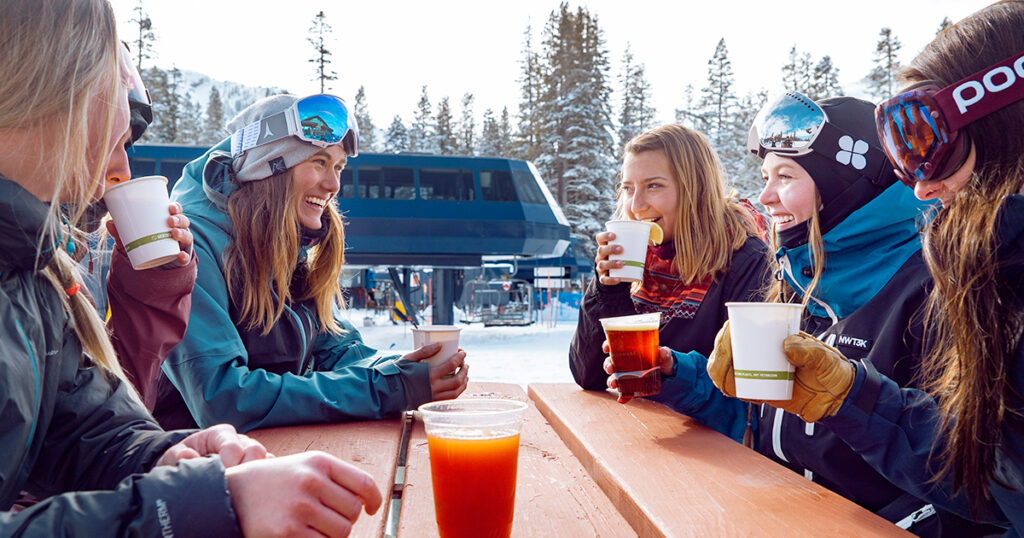 2pm: Day 1 Après
At Sugar Bowl, we maintain that the skiing and riding "lifestyle" is just as important as the actual sport itself. And that lifestyle…we'll it's all about Après! Once the afternoon rolls around, we head down to the Belt Room in the Village Lodge. Try one of our famous Bloody Mary's or order up some classic American fare to top off any great day. If it's sunny, and it often is, the expansive deck in front of the Belt Room is the place to be found with your beverage of choice in hand.
Check our calendar to see if there are events or live music happening that day.
Evening: Post-skiing Day 1
Staying in on the summit? Join us for an evening in the Dining Room at Village Lodge for the ultimate union of delicious food and incredible ambiance. Our Dining Room defines fine dining with a view: Bay Area-inspired California cuisine in our classic high-alpine lodge, complete with an oversized wood-burning fireplace.
Heading into Town? What to Eat in Truckee:
Try Moody's or the Cottonwood for upscale dining
Best Pies for pizza
Casa Baeza for Mexican
Alibi for craft beers and pub food
What to See in Truckee:
Downtown Truckee: go for a stroll through the charming downtown strip. Truckee is a historic railroad town, if you're lucky, you'll see a great big train rumbling through the heart of downtown.
Walk the Truckee River via the Legacy Trail on the outskirts of town.
Bundle up and watch the sunset from the east end of Donner Lake.
If you're up for a drive, you can typically get to Lake Tahoe in about 40 minutes from Sugar Bowl.
Day 2: Another day on the slopes
Maybe you want to rack up as many hot laps as you can before heading home… Or maybe you're ready to mix it up? If you're skiing the resort, you already know the drill, but if you're ready to branch out on Day 2, here are some of our favorite Sunday activities:
Try cross country skiing at Royal Gorge.
Did you know that Sugar Bowl operates the largest cross country ski resort in North America? Explore the Van Norden Meadow and catch an incredible view of the terrain you were downhill skiing just the day before. Royal Gorge encompasses more than 6,000 acres and features 92 trails for classic cross-country skiing, skate skiing, and snowshoeing. Trails are appropriate for guests of all ages and ability levels and rentals and lessons are available daily. Plan to purchase at least a day in advance if you need rentals, a lesson, or a day ticket.
P.S. If you are traveling with your furry friend, a $5 dog pass grants you access to over 30km of dog-friendly trails.
Up for a day of backcountry skiing?
Unlike most resorts in the Tahoe region, Sugar Bowl, in conjunction with the USFS, maintains an open boundary policy for backcountry skiing and riding. If you're an experienced backcountry user with avalanche training and proper safety gear, the world is your oyster- there is excellent backcountry terrain to be found off of Lincoln, Judah, and Crows. If you're an inexperienced backcountry user or if you'd prefer to travel under the guidance of a mountain professional, there are numerous professional mountain guide services that operate in Tahoe. Hire a guide to take you up the resort lifts and out beyond the boundary of Sugar Bowl to explore the backcountry. More about our backcountry policy here.
Day 2: Last Stop before you hit the road
Stop by one of our retail stores for some keepsake shopping. We launched an all-new logo wear catalog this winter and we know you'll want to bring something home with you.
Make it happen:
Now that you've got a basic weekend itinerary, it's time to make a plan and customize our ideas to fit your style. Even if you have limited time at Sugar Bowl this winter, be sure to make your time in the mountains count. How many days are you going to ski this season? Set a goal and see if you can hit it. We can't wait to see you on the slopes.