Healthy Forests & Wildfire Prevention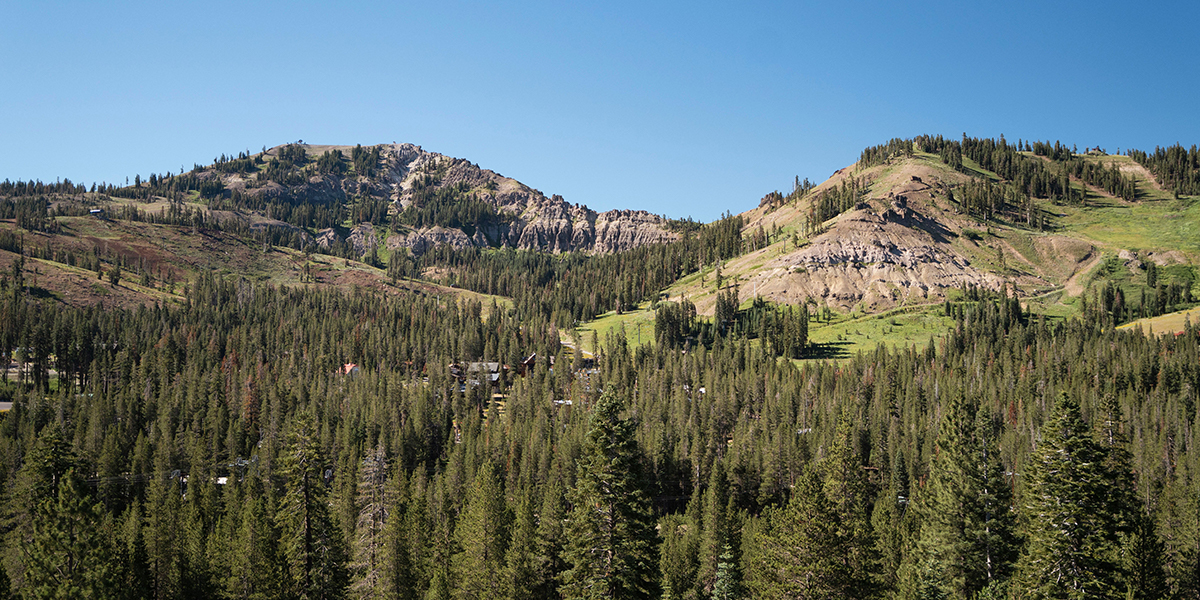 Summer is in full swing, and while we love the wildflowers, warm days and lake jumps that come with it, it is no secret that fires pose a serious threat in the Sierra. As the threat of wildfires has increased over the years, the way we manage these hazards has had to change with it.
At Sugar Bowl, one of the ways we reduce the risk of destructive fire is with forest management projects. This work doesn't mean that no wildfires will come through, but it will give us time and keeps the fire more manageable should one occur. We are prepared and ready. Should a fire happen, we will have time to defend our buildings and make sure everyone gets out safely.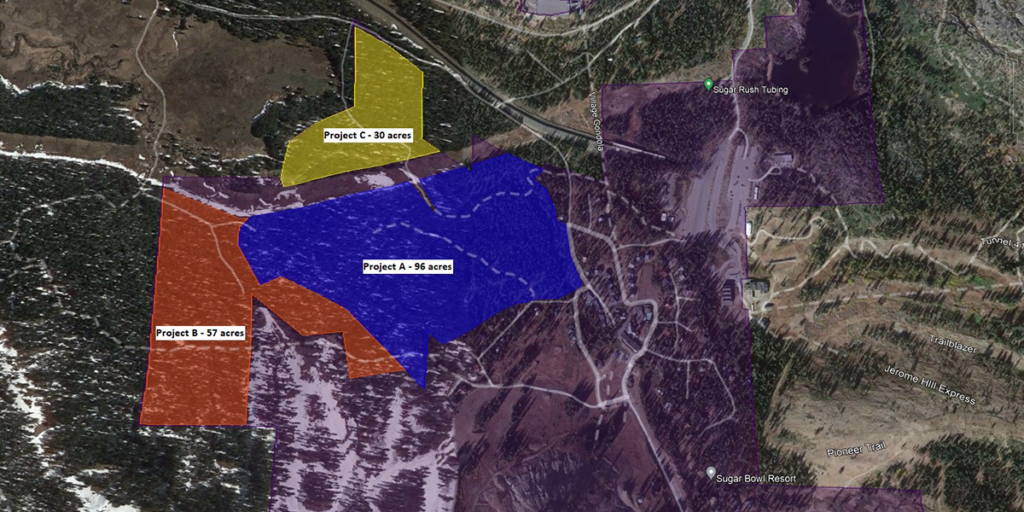 So What Does Forest Management Mean?
Forest Management focuses on controlling vegetation, restoring ecosystems, reducing hazards, and maintaining forest health.
For decades humans focused on preventing fires and avoiding creating clearings in many locations to keep wilderness "pristine". But through the years, we have learned that not mitigating the buildup of dead undergrowth and timber can leave a lot of tinder for fires when they occur. Fire also helps give landscapes a natural refresh, it clears out overgrowth and allows for a healthy forest to thrive. Without fire, there can be too many trees competing for limited resources which leaves them even more susceptible to drought, insects, and disease. Many forest areas are currently unhealthy due to the overgrowth that has been allowed to go on for decades.
Since letting the landscape burn throughout Sugar Bowl is not an option for obvious reasons, we have put a series of creative solutions in motion to manage the health of our forests.
What Sugar Bowl is Doing
Thanks to the efforts of Sugar Bowl's Sustainability Manager, Katya Christian, Sugar Bowl has received grant funding from the Truckee Fire Measure T Community Wildfire Prevention Fund. This grant money has allowed us to expand the outcomes of a 64-acre planned project, and expand the project by 50%. Because of Measure T grant funding, we are now completing a 96-acre forest fuels reduction project to the West of the Sugar Bowl Village.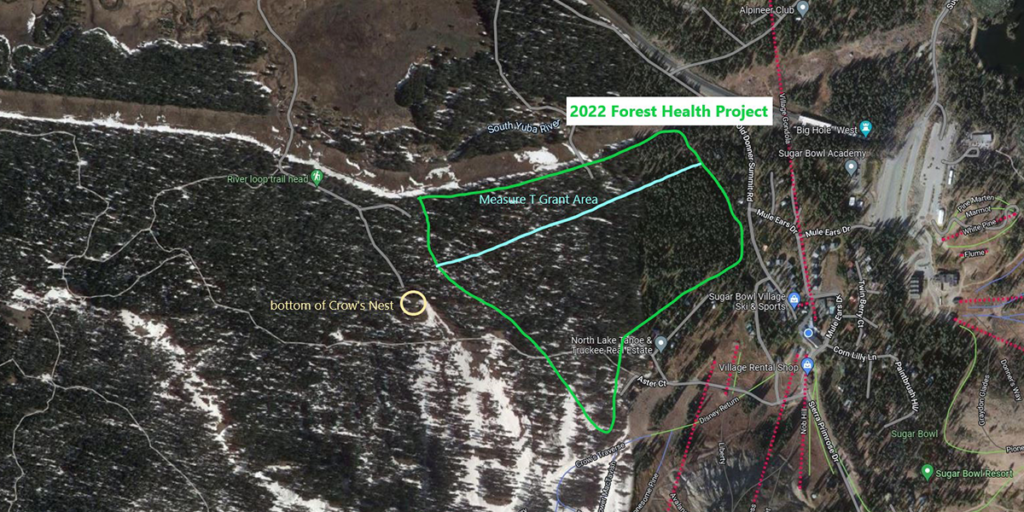 The revenues from Measure T are intended to fund programs and projects that reduce the threat and intensity of wildfire in the Truckee and Donner Summit WUI (Wildland Urban Interface) by reducing fuel loads and better preparing the community for wildfire. Projects like Sugar Bowl Forest Fuels Reduction are an integral part of Truckee Fire's landscape fuel reduction strategy aimed at protecting our communities in the WUI from future catastrophic wildfire events. The residents of Sugar Bowl are already benefiting from Measure T, receiving funding and support from Truckee Fire to further land management objectives, wildfire mitigation goals, and defensible space compliance.
Sugar Bowl has also recently been awarded a grant from the Tahoe Truckee Community Foundation, as part of the Truckee North Tahoe Forest Management Program. Funding from this grant will be used in 2024 and 2025 for a 183-acre fuel reduction project. This includes a second entry to the current 96-acre project, as there are newly-dead and-dying trees in the project area already, and forest management work is an ongoing commitment. On this project, some of the timber may be sold since we will be working under different environmental compliance. This would be similar to what the Forest Service does.
The third forest management project that is in the works involves approximately 12 acres that surround the Sugar Bowl Academy and Sugar Rush Tubing area. We are prioritizing the forest health project in close proximity to Sugar Bowl Academy for the safety of students and staff. This one will be funded by another Measure T grant, which has enabled two-thirds of this project to happen. This project is expected to take place in August and September of 2023.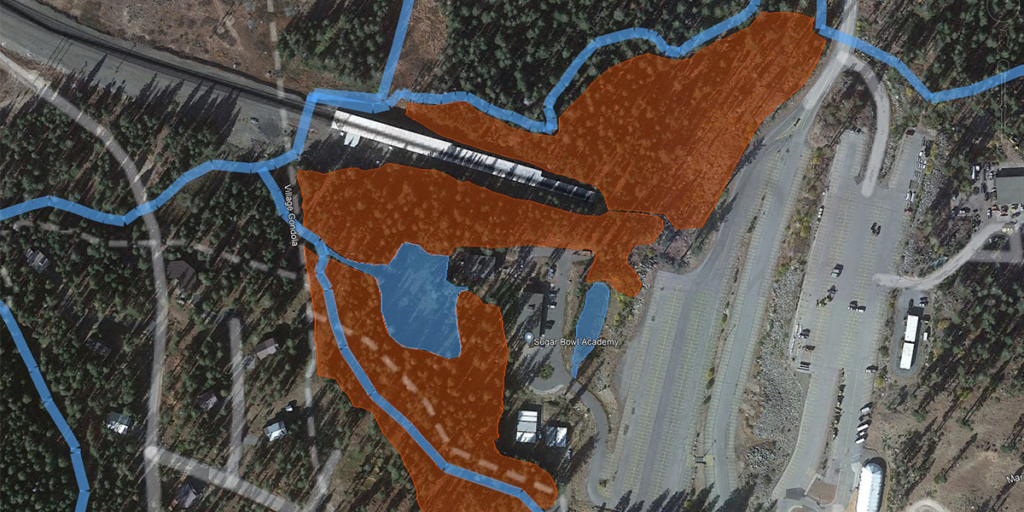 With this, SB Academy wants to work in an educational aspect for the students to teach them about healthy forests and forest management.
Some Quick Facts
-The goal with these projects is that once the forests are looking more reasonable then we go in every 5 years or so and just do maintenance work to remove dead and dying trees from ground-level fuels. The initial parts of these clearings are the most difficult, we would like to get them to a maintainable level.
-When trees are flagged, habitat trees will be left intermittently, even if they're dead, to ensure that they are not removing all existing habitats for wildlife.
-While the current forest management project is not tied into any ski cut clearing or defensible space clearing, it is possible that there could be some overlap in the future. But for now, these projects have different aims and are being worked on in separate areas of the resort.
-These projects are only being done on Sugar Bowl property as Royal Gorge is mostly leased land and thus under Forest Service, Truckee Donner Land Trust, and other private landowner jurisdiction.
-One critical consideration of these projects is they must avoid impacting waterways. Sugar Bowl is at the headwater of the South Yuba River so, by law, they cannot perform any mechanical work in waterways and must hand clear and avoid waterways entirely. It makes the work harder for the contractors but it's important we aren't bringing machinery or felling timber that could be tainting the watershed.
Tips For Improving Your Defensible Space
If you want to learn more about preparing a defensible space around your own home, check out CalFire's page linked below for tips for doing so.