Behind the '21-22 Passholder Beanie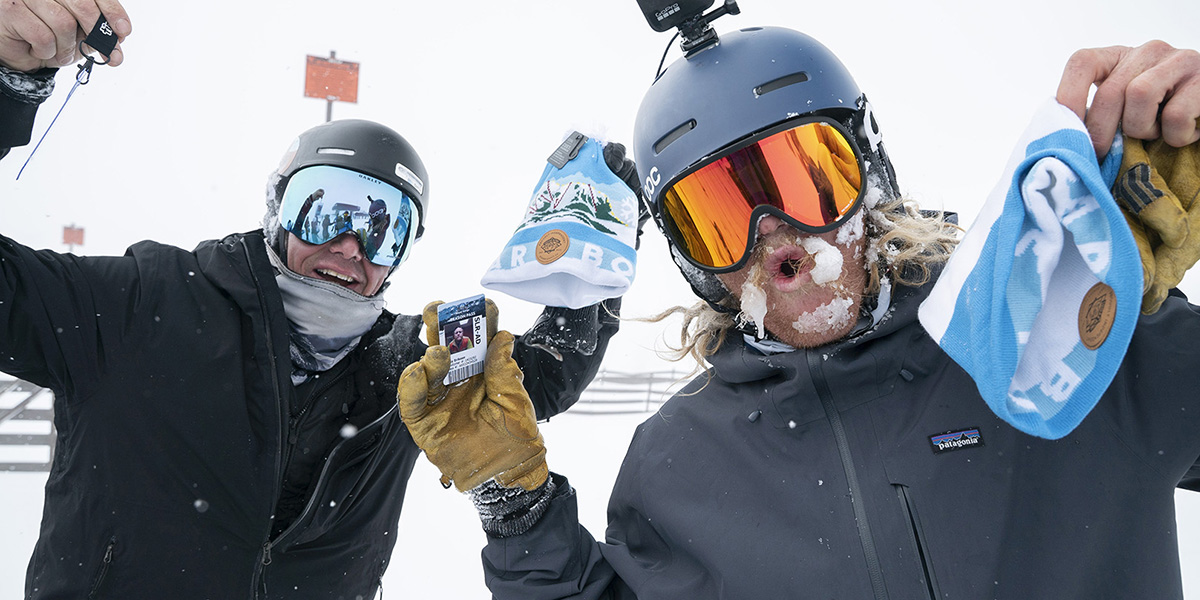 Aaaand we have a winner! We are pleased to bring you an interview with '21-22 Passholder Beanie Designer Sophia Sperman. Last spring, during our first ever beanie design competition, Sophia submitted her trail map themed masterpiece. Although we received hundreds of submissions, Sophia's design was quickly selected for the next round of the competition by a highly professional panel of judges (otherwise known as the Sugar Bowl marketing department). Our top eight picks were then blasted out on all our social channels, awaiting judgment from our faithful followers. A rigorous voting session ensued and when it all shook out, we had a clear winner. Congratulations Sophia!
The new beanies will be given out to passholders at random during the '21/22 winter season. Hope you get one! Now, on with the interview:
Q: How did you come up with your design? What was the inspiration behind the map?
"I designed this beanie with the Sugar Bowl's brand in mind. I wanted it to be identifiably on-brand and unique. While brainstorming ideas that fit these criteria, I remembered the resort map. I thought it would be hilariously charming to point to a map on my head if someone asked me for directions."
Q: What's your go-to creative outlet? Art, design, music, cat photos on Instagram… whatever
"My go-to creative outlet is absolutely art. Growing up, I drew on every scrap of paper I could get my hands on. My teachers were often irked by doodles on the edges of assignments, and I used my school planner as a sketchbook. In high school, I took a graphic design class and fell in love with Adobe Illustrator. I used Adobe Illustrator to design my entry to the Sugar Bowl Beanie Contest! I also love sculpture and print making, and most recently, I taught myself to crochet — I've been working on blankets for my apartment next semester. I find the overlap of physical and digital arts fascinating, and I plan on exploring that overlap in the near future!"
Q: Have you done design work before or is this amazing hat design totally out of the blue for you?
"I've done design work in the past. I first learned the ropes of graphic design in high school, and was later competitively chosen to revamp the logos and branding guidelines for my high school (San Leandro High School) as well as the school's business academy logo. It's really rewarding to see the logo I designed newly painted on the school's exterior! Later, I worked on logos for small businesses, and I frequently find small jobs in photo editing. I've also dabbled in digital illustration for children's books."
Q: Are you going come up and ski/ride Sugar Bowl this winter? If yes, what are you most excited to experience at Sugar Bowl/Lake Tahoe?
"Unfortunately, with college and internships, I don't think I'll make it to Sugar Bowl this winter. However, it is a favorite destination for my aunt and me, so as soon as I can make a snowboarding trip, Sugar Bowl will 100% be in my itinerary. Hopefully, I'll be able to come back soon for a pre-graduation trip!"
Q: What are you going to do with your $500 cash?
The $500 prize will help me pay for textbooks and lab fees during my upcoming semester at UC Berkeley! I am so grateful!
Q: What's your experience like being a student at Berkeley? What are you studying?
"I love it here at UC Berkeley! It is easy to get a quick workout walking along the many campus footpaths – there is always somewhere new to explore! Coming into college, I was determined to find a career path that combined both art and STEM. I am an intended Chemistry major–I plan to declare my major once the fall semester starts–but I also take a lot of art classes which help me unwind from those long chemistry labs. Additionally, I've been interested in the chemical processes behind the art of tattoos for a long time, and majoring in chemistry is a great way to explore that niche topic."
Q: Did your major in college help you come up with your design or totally unrelated?
"I approach chemistry with an artistic lens, which informed my artistic process designing the hat. Maps, like the one I included in my entry, are inherently structural. Maps give visual structure to the process of conveying concepts of direction and space. In a similar vein, chemistry gives us the words to describe how matter works in our world. Finding artistic ways to portray these chemical processes makes chemistry accessible and my art functional, which is important to me. Thus, I spent extra time making sure the map in my design was both functional and beautiful."
Q: What outfit is going to look best with this beanie?
"This beanie is a statement piece that would add a fantastic touch to anyone's outfit. I'm also a big fan of versatility in fashion, so I combined the primary colors with the Sugar Bowl color palette to ensure that this beanie will look wonderful with an outfit of almost any color scheme. Personally, I will be pairing my beanie with a light blue long-sleeved turtle neck layered under a black cami and tucked into my favorite pair of forest green jeans. Of course, I'll have to add some cute black fuzzy boots and, if it gets cold enough here in Berkeley, my favorite blue-grey North Face raincoat."
Q: We're going to send you a bunch of hats, who are you going to share them with?
"I plan to share my beanies with my family–especially my aunt Phoebe Chandler, the habitual snowboarder of the family. While I was growing up, she would take me to Sugar Bowl during winter vacation to snowboard with her. She's also the one who told me about this contest. I would not have known to enter without her, so I am very grateful that she thought of me when she saw the contest details! I also will send a beanie to my high school graphic arts teacher, Ms. Deborah Reinerio, without whom I would not have had the skills to create an entry. I am so lucky to have the support of many wonderful people in my life, and I am so excited to share my winning beanies with them!"
Q: If you could see anyone in the world wearing your design, who would it be?
I would love to have seen my Opa (the German word for grandfather) wear one of my beanies. After he was liberated during WW2, he received graphic design training in Switzerland and went on to make a living in the U.S. designing logos and product packaging. Plus, he was always wearing a hat. If he were still alive, I am sure he would be ecstatic to see what I've accomplished in this contest, and I know he would wear my beanie design with pride.
Q: Besides for getting to wear your beanie, what are you most excited about for this upcoming winter?
I'm a cold-weather person, so winter is my favorite season and I am excited for winter itself (along with eggnog and hopefully seeing family and friends). This winter, I am hoping to see a picture full of map-hat clad super fans of Sugar Bowl! What a treat to see my art enjoyed.
Want to get one of the '21-22 passholder beanies?
We'll be passing out thousands of these sweet hats throughout the season. But remember, these limited edition hats can't be purchased, to get one you must:
Be a season passholder
Be out skiing or riding
Be in the right place at the right time
Good luck and hope you get one!