2022/23 Passholder Beanie: Lincoln's Destiny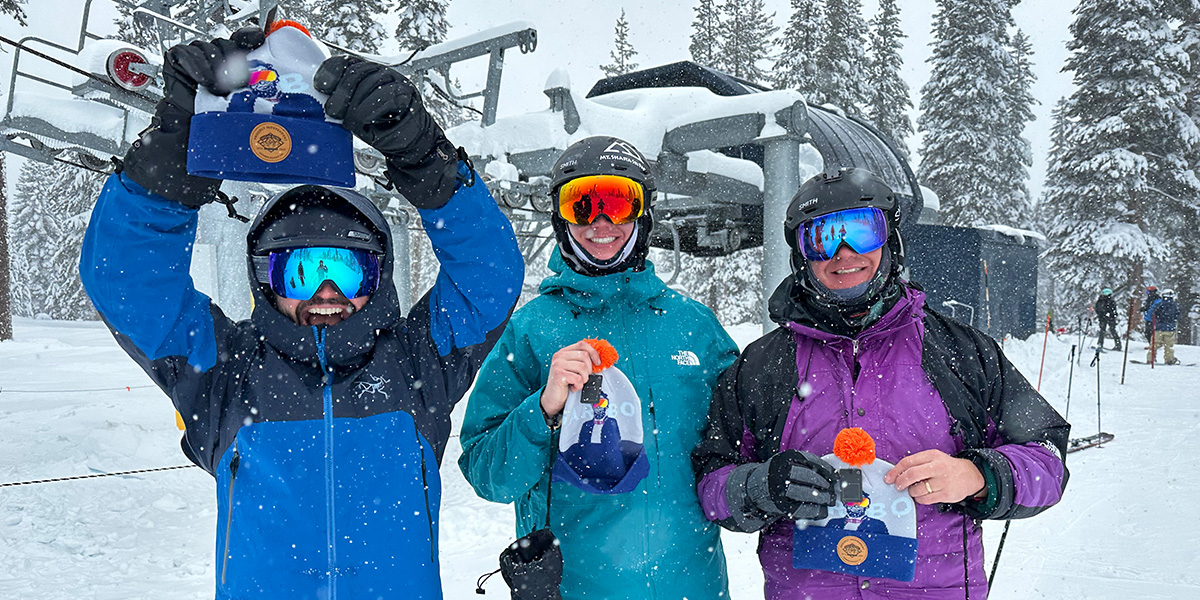 Interview by Maggie aka "The Turninator," edited by Katie aka "K2."
The votes are in and we have a winner! Abe Lincoln is once again a head above the rest – he is the star of our crowd favorite beanie design in the second annual Sugar Bowl passholder design contest! We hopped on a zoom call with Lincoln beanie designer Destiny to discuss.
Destiny grew up in South Lake Tahoe and is a passionate designer – she wears many hats, from her own freelance work, to commissions for a local design company, and working as a barista in a local coffee shop. Full disclosure, we spent the first eight minutes of our interview talking about our shared experience working as a barista. We chose to exclude that dialogue here but if anyone wants to chat about coffee or design, Destiny is your gal!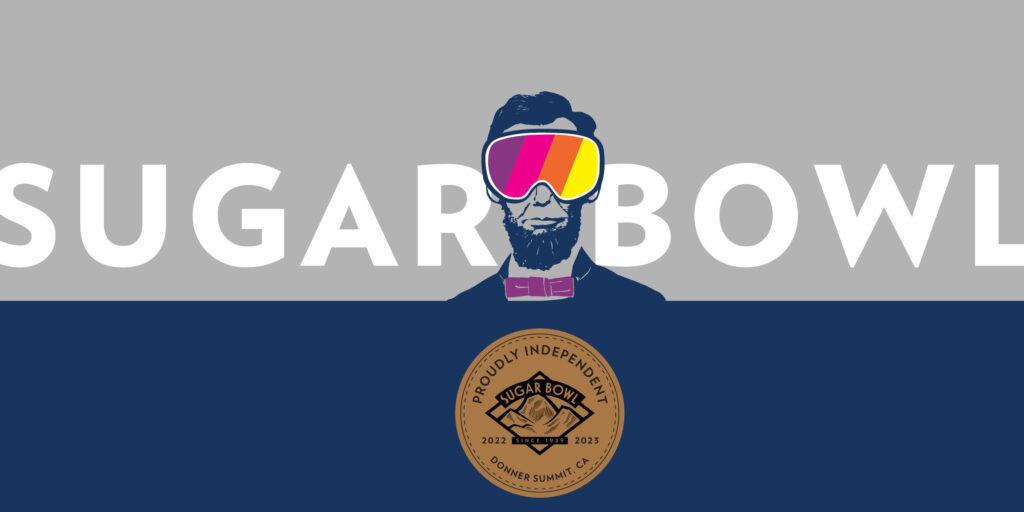 Can you tell us how you came up with your design?
President Lincoln is iconic and there's a reason there is a mountain named after him. He was an inspirational leader. I think that if he were around today, I could see him going skiing or snowboarding at Sugar Bowl with a big pair of goggles on.
I love that you could envision Lincoln out enjoying Sugar Bowl! Do you imagine that he is a snowboarder or a skier?
I think he would be a skier. Even though I love to snowboard, I really feel like I could picture him up there with his ski poles. [chuckles]
[laughing] I have to agree, with that scruffy, big beard, maybe he's even a tele skier! So you're a snowboarder but it sounds like you haven't gotten to come up and ride Sugar Bowl yet. Will you come up to ride with us this winter?
I definitely will! I plan on going up to Tahoe during the winter and hopefully, we have some good snow this season. The first run that I'm going to go on will be something off Mount Lincoln.
For sure! We'd love to have you come check out Sugar Bowl. Okay, let's get into a little bit more about your design background. Can you tell us how you got started?
I would play around with Photoshop a lot when I was in high school. It still had fancy features back then but not like it is now! I first learned how to do all of my designing on Photoshop and I didn't start using Illustrator until about six or seven years ago and that was a whole game changer.
Now, I've been running my own business for graphic design, Design by Destiny which I started six years ago. I also work for an awesome company based out of Tahoe called Hatchback Creative and they contract me out whenever they need designs done.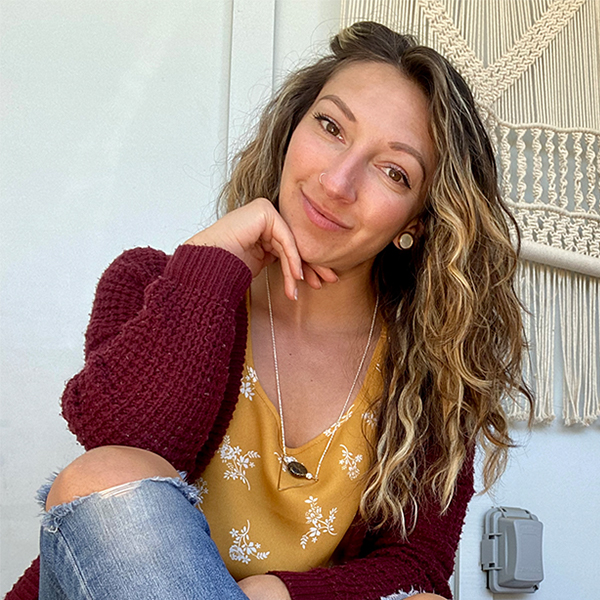 Sounds like you're wearing a lot of hats (pun intended) between all the different projects you have going on! Had you entered a design competition before?
Nope, this was my first contest ever!
Wow, you have a 100% success rate!
I do, yeah. My friends and family always send me contests and things like this. I never went for it before because until recently, I didn't feel super confident in my own work. It wasn't that I didn't think I did good work, I know I do. But sometimes you're just so close to what you're doing, you are your own worst critic. Doing this contest showed me that, wow it's not just my friends and family that think my work is great. Seeing my design get voted to the top was really affirming to me.
When you are designing something, what is your creative process like?
There were a lot of ideas that I tossed around in my head at first. One of the methods that I learned early on is, write down the first three to five ideas that come to mind and then don't use any of those ideas. Those are typically going to be the ideas that everyone else comes up with or they can sometimes be a little generic. It forces you to think outside the box. You cross out those first ideas, and it's like okay, how can I make this better or more personal? So that's how I ended up looking at the trail maps and found Mount Lincoln.
In case anyone is out there, scratching their head because they don't understand the connection, can you lay it out play-by-play?
At Sugar Bowl Resort, one of the four main peaks is called Mount Lincoln, and I decided to base the beanie design on it.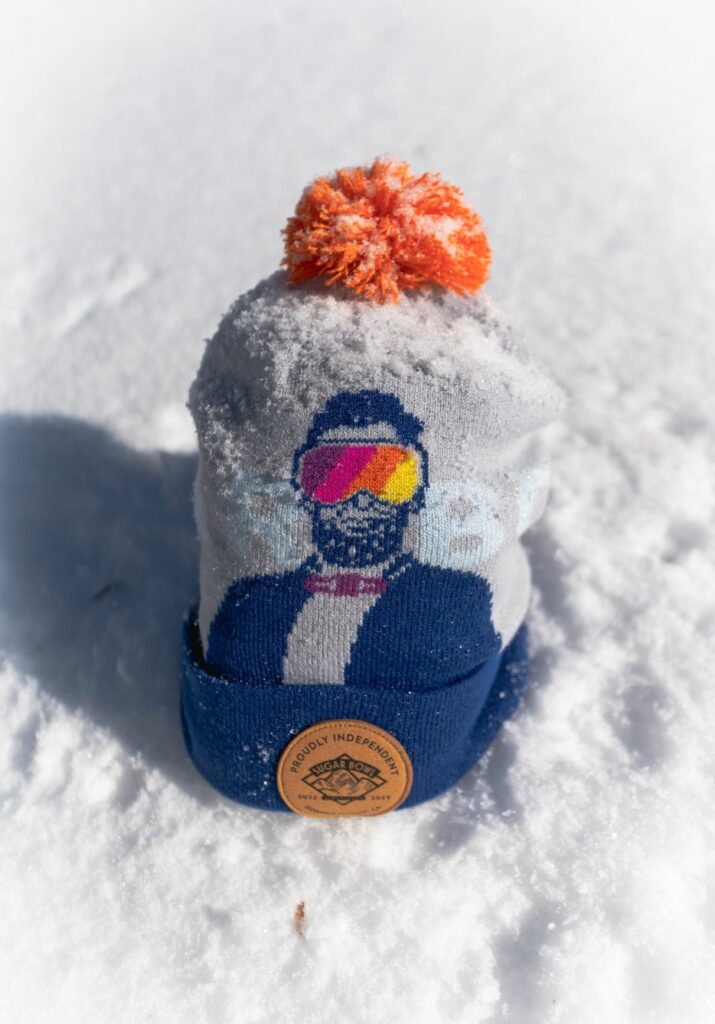 We've ordered thousands of your beanies. When our shipment arrives, we're going to send you a big stack of beanies to share. Who are you most excited to share them with?
There are definitely a couple of coworkers who I would like to give a beanie because– I actually recently moved away from Tahoe and when I moved, I only really knew my boyfriend. I didn't even know my roommates. To have the support of my new coworkers voting for my design and totally believing in me and following up with me. They kept asking me, "did you win? Have you found anything out?" That was so special to me and so I definitely want to give a couple of them the beanies that they voted for.
Sounds like you've got some great folks to give them to. Outside of your close friends and family, who in the world would you most like to see rocking your beanie?
You know, it would be so cool if Johnny Depp was wearing my beanie. [laughing] I don't really know if it would go with his style but he seems like he might like the quirkiness of my design.
I'm sure he's gotten weirder stuff in the mail than a Sugar Bowl passholder beanie. Let's send him one!
No doubt about that. But you know, I would really love to send a couple to this design company in Tahoe called Rise Designs. The owners' Mike and Marly are the coolest guys ever. They are actually the ones who got me started with Illustrator.
I got in contact with them and they sacrificed their time and sat down with me to show me the basics of Illustrator. Thanks to them I was able to not only do this contest, but I was able to start working at Hatchback, and I've been able to grow my design world. Those guys are on the top of the list of people I'd like to see wearing my beanie.
When you look forward to this winter, besides being stoked to wear your winning design, is there anything else you are excited about?
I'm really looking forward to quality time with my family, especially since I don't live in Tahoe anymore. When I am up there I really want to soak in every minute that we can talk together, eat together, and adventure together. We had a pretty big shift and a family emergency at the beginning of the year and it's actually bonded us closer together as we've all processed through it. I don't regret moving but I look forward even more to being able to visit and get in as much time with them as possible.
So if we get some really good snowfall, maybe I can go up to Sugar Bowl with my brother and my boyfriend to just get out and enjoy Tahoe together.
Please do come up and see us. Getting out and skiing with family, those are such special memories. Please bring your crew to Sugar Bowl this season and we'll make sure everyone gets out there. We can't wait to see everyone together wearing your beanies.
I'll probably lose my mind seeing everyone wearing it. Like OH MY GOD, that's my beanie!
We can't wait to see that happen. Destiny, thanks again for taking the time!
If anyone is reading along, keep an eye on our socials for how you can get yourself a Passholder Beanie.
Interview by Maggie aka "The Turninator," edited by Katie aka "K2."