2022 Poker Run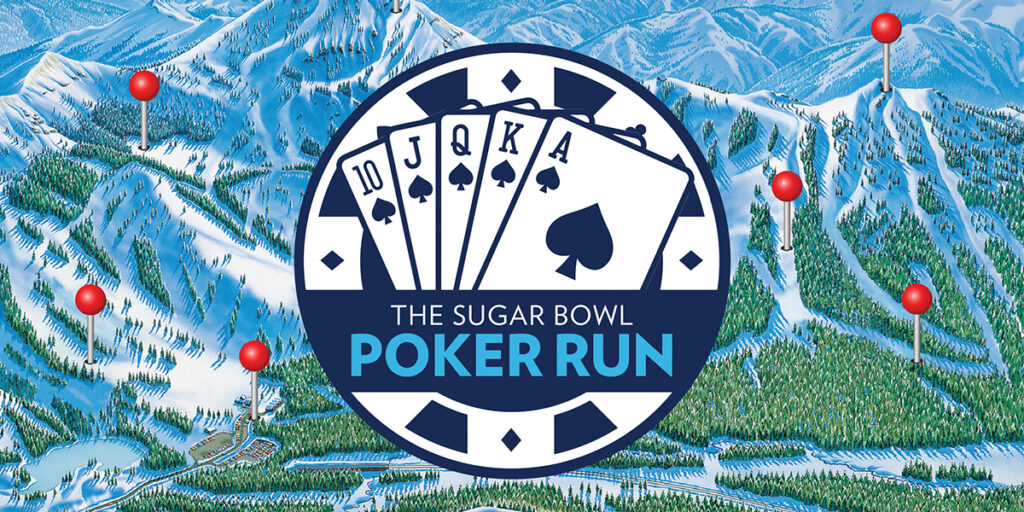 This January 22, 2022, join us for a family-friendly game of poker—on snow! The poker run is simple to participate in and it's a fun way to explore the mountain. Just ski or ride to at least five Poker stations we'll have set up around the mountain and take a picture of yourself at each one. Then head to the lodge to pick up a card for each station you stopped at. The person who has the best poker hand of cards is the winner! No problem if you don't know the game, we'll help you choose your best hand.
Have fun while supporting a good cause
All proceeds from the event benefit Excellence in Education, in support of students and teachers in the Truckee-Tahoe school district. Register in advance online for $20… or $15 for kids 12 and under. First 100 sign-ups receive a custom deck of Sugar Bowl Poker Run cards. Day-of registration is $25.
Stick around for the after-party at Judah Lodge with awards and live music by Jelly Bread. A $1000 grand prize plus tons of raffle prizes are up for grabs!
3 Important Reminders if you Plan to Participate
On Saturday Jan 22, from 9-11am, come by the registration tent at Judah Lodge. You will need to sign a liability form and get a wristband. No wristband = no prizes (and no fun). Remember cash for the raffle. See full schedule below.
You will need a valid Sugar Bowl lift ticket or season pass to play. Lift tickets must be purchased in advance and are subject to sell out.
You will need a smartphone or digital camera to document that you went to each station. Take a selfie at each station to prove you were there. Photo must include: your face AND the numbered poker chip.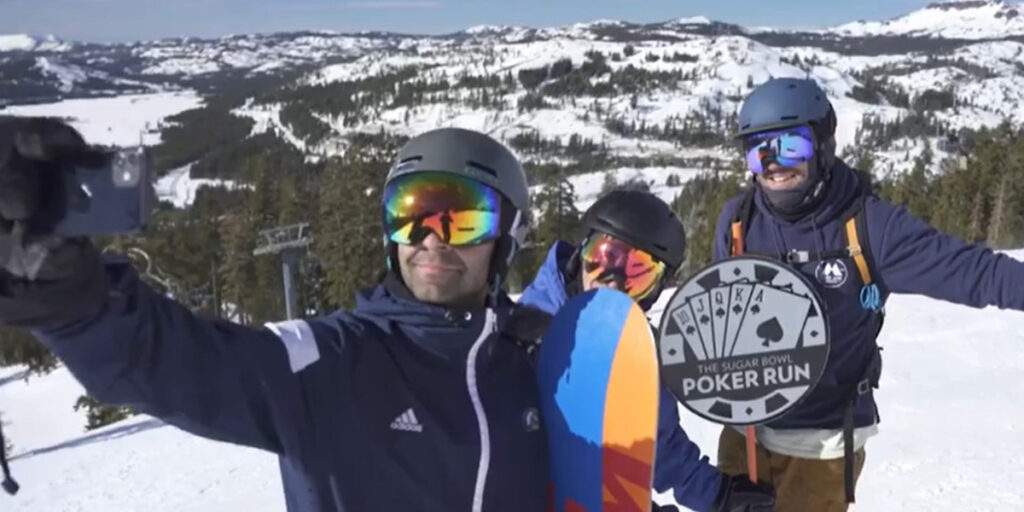 Schedule
9-11am Registration Tent: Course Overview
10am-2pm Ski or Ride around to Poker Chip Stations, take selfies to prove you were there!
12-2pm Return to registration and dealer will deal your hand
1-4pm After Party & Live Music by Jelly Bread
2:30pm Awards & HUGE raffle
FAQ
How do I play poker?
Don't worry about it, just go to the Poker Chip Stations, take a selfie with each one, and we can help you select your best hand at the end.
How do we know where to go?
Look at the Poker Chip Station map at check-in, we have provided trail maps and sharpies so you can mark down the locations.
What do the Poker Chip Stations look like?
Look for a giant Poker Run Chip mounted on a bamboo pole. Take a selfie at each station so you can prove you were there!
How long will the checkpoints be on the mountain?
Check points will be available from 10AM – 2PM.
Do we have to go to every location?
No you do not, however your chances of playing a good hand increase if you do!
Is this a race?
No, although check in to play your hand will end promptly at 2:30PM.
Where are the Joker's hidden?
Follow us on Instagram and look for our Stories!
What do I do after I visit 5 or more stations and I've taken a selfie to prove I was there?
Come back to registration at the Judah Lodge to be dealt your hand. Check-in will be from 1:00pm – 2:30pm.
How many cards can I get?
Depending on how many stations you visit, you can get up to 7 cards. The minimum number of stations you need to visit is 5. Remember to take a selfie each time to prove you were there.
Can we trade cards with another player?
No way! You will be dealt all your cards at once back at the registration tent, so you'd have to be a real card shark to pull a switcheroo.
What happens in a tie?
The two people who tie will pull 5 cards from a deck and play their best hand.
What are the prizes?
$1000 Grand Prize. This will happen at 2:30PM at the Judah Lodge. Our top 3 winners will receive cash plus great prizes from our sponsors, Totally Board, Silver Legacy Casino, Giro, RMU Truckee, Deschutes Brewery, and HitchFire.