Have a Smooth First Day on the Slopes: 8 Ways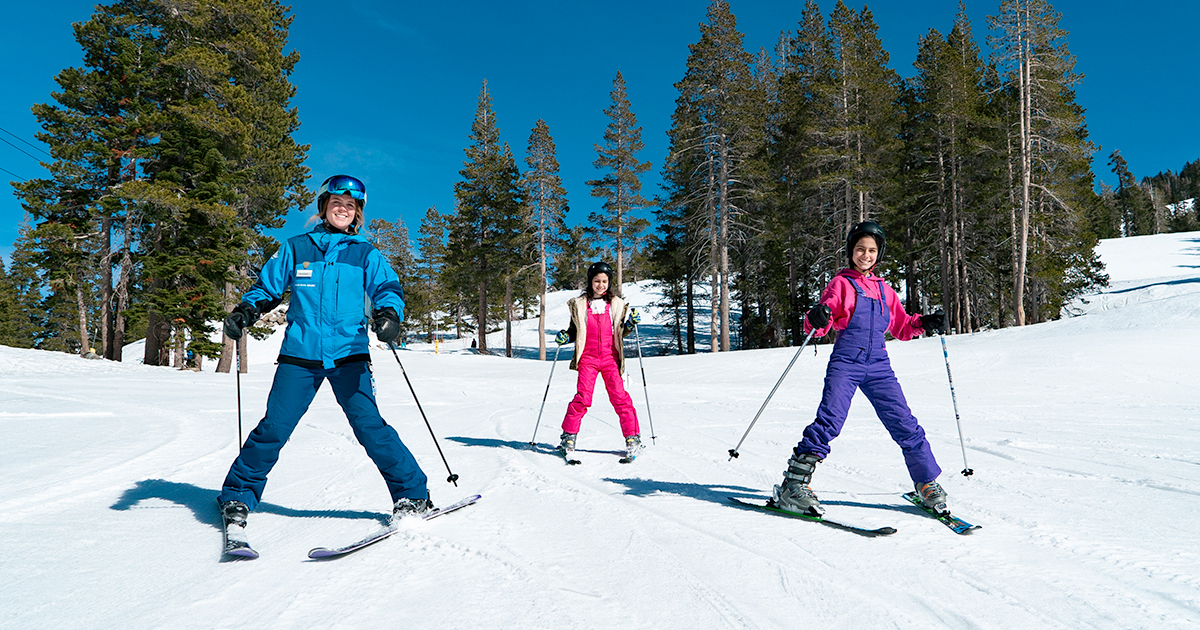 With the right preparation and a couple helpful pointers, you'll have a lot of fun learning to ski or ride at Sugar Bowl Resort.
1. Go with a Pro & Book a Lesson
Friends are great for carpooling but they almost always fall short as ski instructors. Book a lesson with one of our certified ski & ride instructors and we'll get you started in the right direction. The progress you can make with an hour of ski instruction can replace days or weeks of figuring it out on your own.
As I'm sure you learned all too well during the pandemic, we send our kids to professional teachers in school for a reason…they are trained to teach. Same goes for our PSIA certified Ski Instructors.
Is the whole family learning to ski? Choose a private family lesson, or, we have options for kid-specific and adult-specific lessons.
We also offer a First Timer Package that you can sign up for (age 13+). Starting at just $149 you can get a half day ski or snowboard lesson, full day lift ticket and all day equipment rental.
2. Know the Rules of the Road
The Skier Responsibility Code is a crash course in ski area etiquette. but it's a good idea to get a basic idea of the do's and don'ts before you hit the slopes. The list includes common sense items such as always stay in control & be able to stop, but also some items you might not consider, like stopping in a safe spot where you can be seen. When possible, I like to stop behind a sign or tree for an added level of protection.
3. Study the Trail Map
When you're just getting started, look for the zones with the most green circles. (Hint: both parking areas have access to beginner terrain.) Get an idea of which chairlifts you want to ride that day to access the terrain you want to ski or ride. If you take a few minutes to get your bearings before your first day, you'll feel much more confident when you arrive. Here's a link to our trail map. Have questions while at the mountain, just ask someone in a blue Sugar Bowl uniform. Our team is passionate about skiing and snowboarding and loves to share that passion with others.
4. Gearing up? Get the Right Tool for the Job
Sure, your friend might have a free set of skis you can borrow, but if they are better suited for a ski museum or a foot taller than you, the "savings" are doing you no favors.
One of our friendly base area rental shops can help get you and/or your family dialed in for your first day on the slopes. A professional technician will make sure your skis or boards are properly adjusted to match your skill level. You can rest assured that our state-of-the-art rental fleet is waxed, tuned, and ready to rock. Rentals are only available for skiers and riders taking a lesson at Sugar Bowl. Be sure to book at least a day in advance!
5. What to Wear: Outfitted for the Outdoors
A great day in the mountains starts with comfortable outdoor clothing. The basics are: waterproof jacket and pants, insulating/moisture-wicking base layers, helmet, googles, gloves, and ski socks. Remember to avoid cotton wherever possible, because it gets cold when wet. For a step-by-step guide, check out this helpful blog.
Pocket essentials: we like to have a travel size sunscreen, lip balm, microfiber goggle cloth, and tissues. Forgot something? We can help at one of our on-mountain stores.
6. Give Yourself a Break
If it's your first day, it's safe to say that you'll be learning a lot of new skills (and testing out a couple new muscles too!) Taking a lunch break at one of our on-mountain dining locations is an opportunity to rest, relax, hydrate, and enjoy the view of the surrounding Sierra. You'll be ready for another round of skiing or riding after a little down-time.
On a budget? Keep a spare Cliff Bar in your pocket. Kids learning to ski too? Pack two for them! Parking lot car picnics are allowed and encouraged.
7. Acclimate to the Elevation
Many of our guests travel to Sugar Bowl from sea level and will hop on the lifts that lead straight to our highest peak at 8,383'. While this altitude change is typically manageable, you may notice a mild headache and some extra huffing and puffing going up the stairs. Stay hydrated, take it slow, and keep an extra Advil in your pocket just in case.
8. Celebrate your First Day with some Après
Don't go just yet! After your big first day on the slopes, plan to enjoy the legendary après culture Sugar Bowl has to offer. Join us for great food and party vibes at the Belt Room. Looking for a laidback soak in the sun? Try the picnic tables outside of Judah Lodge. Whatever you're up for, our skiing and riding culture at Sugar Bowl is a lot of fun, and we're excited to show you what it's all about.