Best Outdoors Wedding at Sugar Bowl: 10 Ways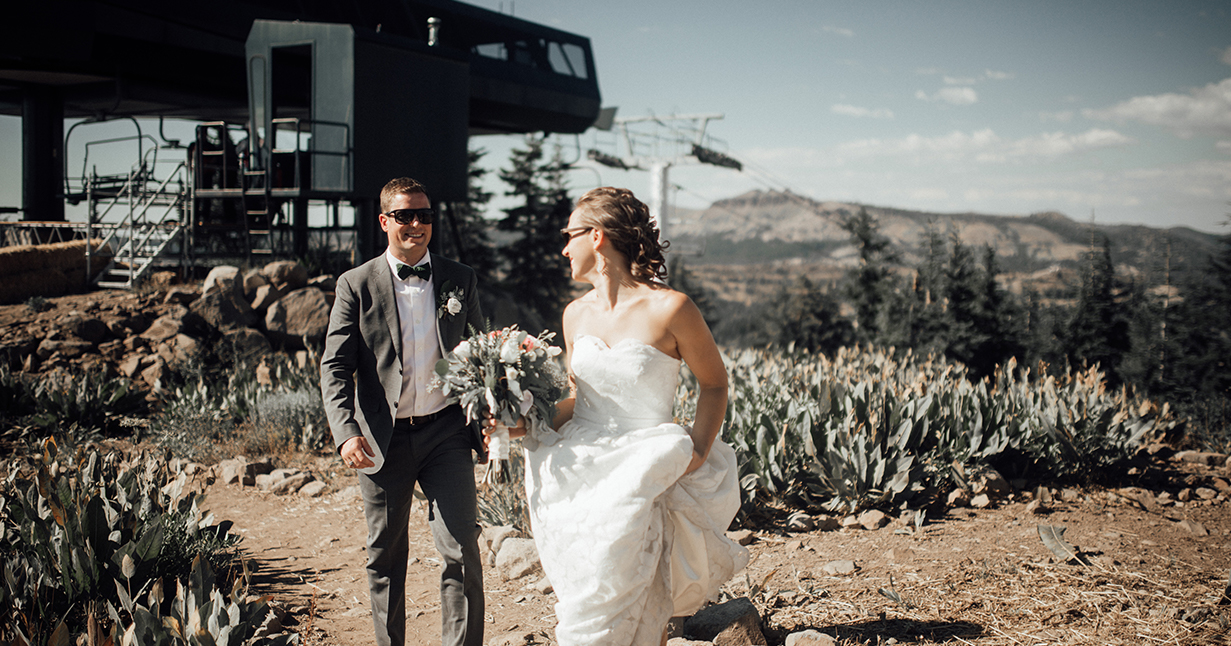 1. Easy access to hiking, mountain biking, & climbing.
Location, location, location! Donner Summit is any adventurer's dream. From your base camp, you can climb world-class granite cliffs, hike a section of the famous Pacific Crest Trail, and mountain bike the Donner Lake Rim Trail with panoramic views of the surrounding Sierra.
2. Pre-wedding tip: Enjoy our signature "Lake Mary Day" to maximize outdoor family time the day before your wedding.
While adventure sports aren't within everyone's wheelhouse, a day of outdoor fun at our private lake is accessible for all. The day before your wedding, plan to paddle, swim, and connect with your guests in a stress-free setting. Once you've worked up an appetite, enjoy custom catering from our Lake Mary restaurant. If spending the day at a beautiful alpine lake can't calm your pre-wedding jitters, what will?
3. Best wedding theme ever: Authentic Alpine Experience.
Our resort has been in operation since 1939, so you'll nail a vibe that captures Old Tahoe charm with some European alpine flair mixed in. Capitalize on the cool ski area vibe because your guests are in for a mountain-top party like no other. You may want to warn them: stilettos not recommended.
4. Dancing under the stars, swoon!
If summertime weather has you wanting to spend every possible moment outside, we're with you. Take advantage of the amazing Tahoe weather May-September and plan your whole party to be outdoors: ceremony, cocktail hour & reception. The deck of our Village Lodge is the perfect place to throw a raging outdoor dance party. Of course, as a backup, you'll have the charming Belt Room Bar, the Lounge with its oversized stone fireplace, or the lovely Lake Mary cabin. We've got our fingers crossed for a perfect warm day & cool night for your big event.
5. Ride a chairlift
Incorporating chairlift transport into your wedding day makes limo travel feel a little basic, doesn't it? Your guests will be giddy (and others probably a little nervous) about the prospect of hopping on a lift and soaring to the summit of Disney at 7,953'. Reaching the summit, you'll be surrounded by expansive views of the Sierra from Van Norden Meadow to Castle Peak. Even your "afraid-of-heights" guests will agree the adventure was worth it.
6. Adventurers gotta eat!
If you're leaning towards a Tahoe wedding, we're sure you're planning some fun mountain adventures to entertain your guests (and yourself!). With all these fun-filled and eventful days, your crew is going to work up an appetite. Sugar Bowl's catering department delivers. Under the skillful guidance of French-trained executive chef Mark May and the masterful Chef Able, our catering is fresh and delicious. We pride ourselves in having the range to accommodate any mountain event, elevated or casual.
7. Catch a Sierra sunset unlike any other
As the daylight fades, the Sierras light up. High alpine sunsets in our mountain landscape are a sight to behold. As your wedding day transitions to the after party, the scenery won't disappoint. It can't hurt to have a little extra "glow" on your big day.
8. Beautiful presentations integrate incredible scenery into your wedding
Every scene of your wedding at Sugar Bowl is complete with a stunning backdrop. Our wedding planners are experts at crafting each space so it's both functional for your event and still highlights the natural beauty of our landscape.
Let us design these spaces for you:
A simple and elegant ceremony on the lawn surrounded by towering pine trees.
A show-stopper cocktail hour on the summit accessed via chairlift.
A lively base area where you'll dine & dance under the stars.
If you want to plan an unforgettable event, start with a spectacular mountain landscape and we'll take care of the rest!
9. Find some peace and quiet in the mountains
The best thing about a Sugar Bowl wedding is how private the venue feels. After our last day of the ski season each spring, our resort closes to the public each summer, so you can be sure that your group is the only wedding party on site. If you're after a laidback mountain vibe with plenty of peace and quiet, look no further.
10. Base camp for your closest friends and family
Hosting an event at Sugar Bowl grants you exclusive use of the entire venue, including bar, lounge, dining room, decks and lawn for the whole weekend. Basically you've organized a mini summer camp with the people that matter to you most. We know this event is important, but let's make sure it's really, really FUN.
Start Planning. Send an email to weddings@sugarbowl.com or call (530) 426-6769 to speak with a Wedding Specialist at Sugar Bowl.